A passion for flying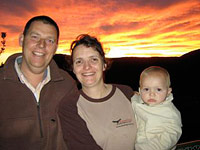 Tony began Hang Gliding 1981, at age 18, following his older brother who took up the sport with enthusiasm. He became a Hang Gliding Instructor in 1985, teaching students on weekends and holidays. Seeing the obvious advantges of powered Hang Gliding, he began to mix flying Hang Gliders with powered Hang gliders (known as Trikes or Microlights), and found more Instructing was required in the Trikes. An opportunity came up to secure lease of a large hanger in Benalla at the Benalla Airport. He set up a full time training and flying facility at Benalla in Victoria. This hanger has up to 22 Trikes in it at any one time and the flying activity there has certainly put Benalla on the map of Microlight flying in Australia.
Microlight Instructor Certificate was gained in 1991 and over the years progressed to Chief Flying Instructor up to the highest attainable level of Pilot Examiner in 1996. Tony has trained hundreds of people over the last 20 years to fly Trikes and has thousands of hours flight and training experience. He has certainly become a leader in the sport, and is often featured in popular national and international flight magazines and travel experience television programs.
Now living in Stanwell Park very close to where one of the pioneers of flight lived and worked (Lawrence Hargrave) he can enjoy Hang Gliding and Triking at which is arguably the most picturesque and flight-friendly location in Australia. Trike flights and training is conducted from Albion Park Airport, an hour's drive south of Sydney's CBD.
Call now

Book your Microlight flying lesson now. Call 0418 574068

Trikefan Services

| | |
| --- | --- |
| | Microlight flights & tours |
| | Microlight aircraft sales |
| | (New & used) |
| | Microlight training |
| | Equipmemt sales and accessories |